Ceva's Liquid Nitrogen Logistics service in the warehouses and hatcheries
Producing and using frozen vaccines such as Marek's cell associated vaccines, in liquid nitrogen brings greater quality, safety, and efficiency to poultry vaccination. However, it also brings some challenges for both suppliers and customers.
Ceva´s LIquid NItrogen LOGistic (LINILOG) service contributes to vaccine integrity preservation and operator safety, thanks to constant monitoring of the vaccine freezing system in the warehouse and the hatchery, including protective equipment and training.
Hatchery: first step in the production process
Hatcheries play a strategic role for poultry companies, as a first step of the production process. Cold chain management is critical to successful immunization.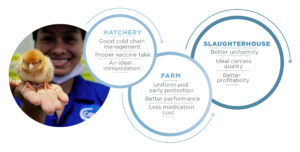 By applying liquid nitrogen logistics good practices, from warehouses to hatcheries, we aim for the effective immunization of flocks with a preserved vaccine, supporting the entire production chain.
Delivering an end-to-end service solution based on 4 pillars:
CONTINUOUS CONTROL OF THE VACCINE INTEGRITY
TRAINING AND QUALIFICATION
CEVA'S LINILOG PROGRAM IS A GLOBAL STANDARD OF SERVICE FOR LIQUID NITROGEN LOGISTICS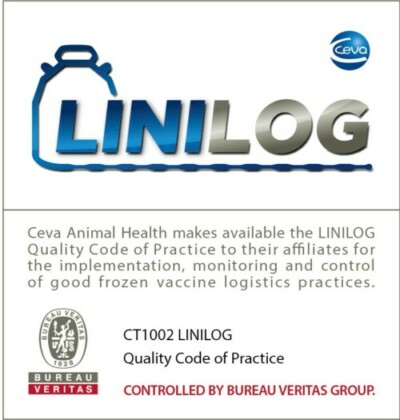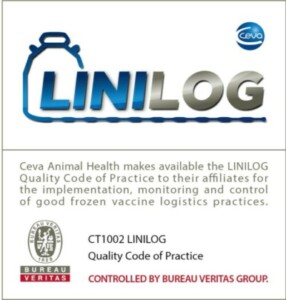 After 12 years of contribution to preserving the frozen vaccine integrity and human safety in warehouses and hatcheries, Ceva created the Linilog Code of Practice and received Quality Recognition from an international third-party certification body.
Ceva Headquarters is Quality Recognized for making available, for all Ceva affiliates, the training and tools for the standardization of frozen vaccine logistics good practices.
The quality Recognition is now monitored by Bureau Veritas Group at the country level, for each candidate country.
+175
hatchery specialists worldwide
99.8%
successful vaccine delivery
97%
compliance with the Linilog procedures in the hatchery
1200
hatcheries visited worldwide